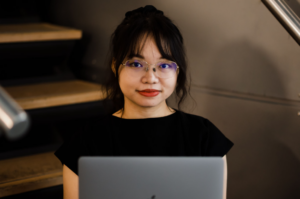 Meet Mai (known to us as Mel), a passionate data enthusiast whose journey from being an international student to a full-time employee with CRM Champion is nothing short of inspiring. Beyond the world of data, Mai has a wide range of personal interests, including environmental issues, social causes, mental health advocacy, and modern arts. Recently, she has delved into the fascinating world of computer vision. In this blog post, we'll take a closer look at Mai's remarkable journey and explore her insights, achievements, and aspirations within the realm of data analysis. 
From Student to Professional: 
Mai's journey began with a bachelor's degree in business management, but it was during a one-year exchange program in Australia that she was first exposed to the exciting world of data. This exposure ignited her curiosity, leading her back to Vietnam, where she embarked on a self-study journey to learn query and programming languages like SQL and Python. 
This self-driven effort paid off when Mai secured a role as a Data Analyst in the telecom industry. Her thirst for knowledge and ambition didn't stop there. She soon transitioned to a financial institute before embarking on a new adventure—moving to the UK to pursue a master's degree in applied data science and statistics at the University of Exeter.  
During her academic journey, Mai achieved outstanding academic success, earning distinctions across the board. She was also nominated for the University of Exeter Employment Award, recognising her dedication, hard work, and exceptional time management skills. In addition to her academic achievements, Mai participated in the Data Study Group, a collaborative hackathon hosted by The Alan Turing Institute and the Defence Science and Technology Laboratory. This event aimed to provide toxin diagnosis through cellular morphology analysis—a testament to Mai's commitment to using data for real-world problem-solving. 
Reflecting on her degree, Mai emphasises the importance of opportunities. She cherishes the chance to learn, connect with like-minded individuals, and seek guidance from experienced mentors and lecturers. Her program offered exposure to various data-related domains, from business to healthcare and environmental studies, enhancing her career prospects. Additionally, Mai secured employment through the Student Business Partnership with us here at CRM Champion for three months, demonstrating the powerful network of opportunities created by her academic institution. She now continues with us as a full-time employee.  
Passion for Data Science: 
When asked why she is drawn to data science and analysis, Mai expressed a genuine passion for making complex data understandable to everyone, not just tech-savvy individuals. She finds satisfaction in transforming raw data into meaningful insights, improving predictive models, and constantly learning new techniques, such as handling image data. 
Ambitions and Dreams: 
In the data space, Mai's ambitions are clear—to help businesses and organisations harness the potential of their data, converting it into valuable insights that inform strategic decision-making. On a personal level, she aspires to tackle diverse data-related challenges across different fields and domains. 
Advice for Aspiring Data Analysts: 
Mai has valuable advice for those aspiring to follow a similar path: 
Build a Strong Foundation: If you don't come from a technical background, invest time and effort in foundational knowledge. Profound knowledge of mathematics and computer science can be invaluable in the long run. While practical projects are essential for skill development, understanding the theoretical underpinnings will enable you to explore advanced techniques and understand research papers. 
Listen to the Problem Owner: Remember that data, especially in a business context, is more than just numbers. It has context, and understanding the data-generating process and the context behind the numbers is crucial. Always engage with the problem owner—the one who knows the data best. 
Mai's journey from a student to a data professional is a testament to the power of self-driven learning, dedication, and a passion for making data meaningful. As she continues to make strides in the world of data analysis and contribute to solving real-world problems, Mai serves as an inspiring example for aspiring data enthusiasts. Her story reminds us that with the right mindset and a strong foundation, anyone can carve a successful path in the data space.  
To find out more about our data analysis services, or to book a discovery call click here.